All the stories I've written and not sent you and why not
Israel IRS Vaccines Guns Golden Bachelor Palestinians Donald Trump Hamas Pfizer and Quest Protein Bars
This is a newsletter about all the stories I never sent you and why not… 
Emily Posts News is a reader-supported publication — no sponsors, no ads. To receive new posts and support my work, consider becoming a free or paid subscriber with the button below.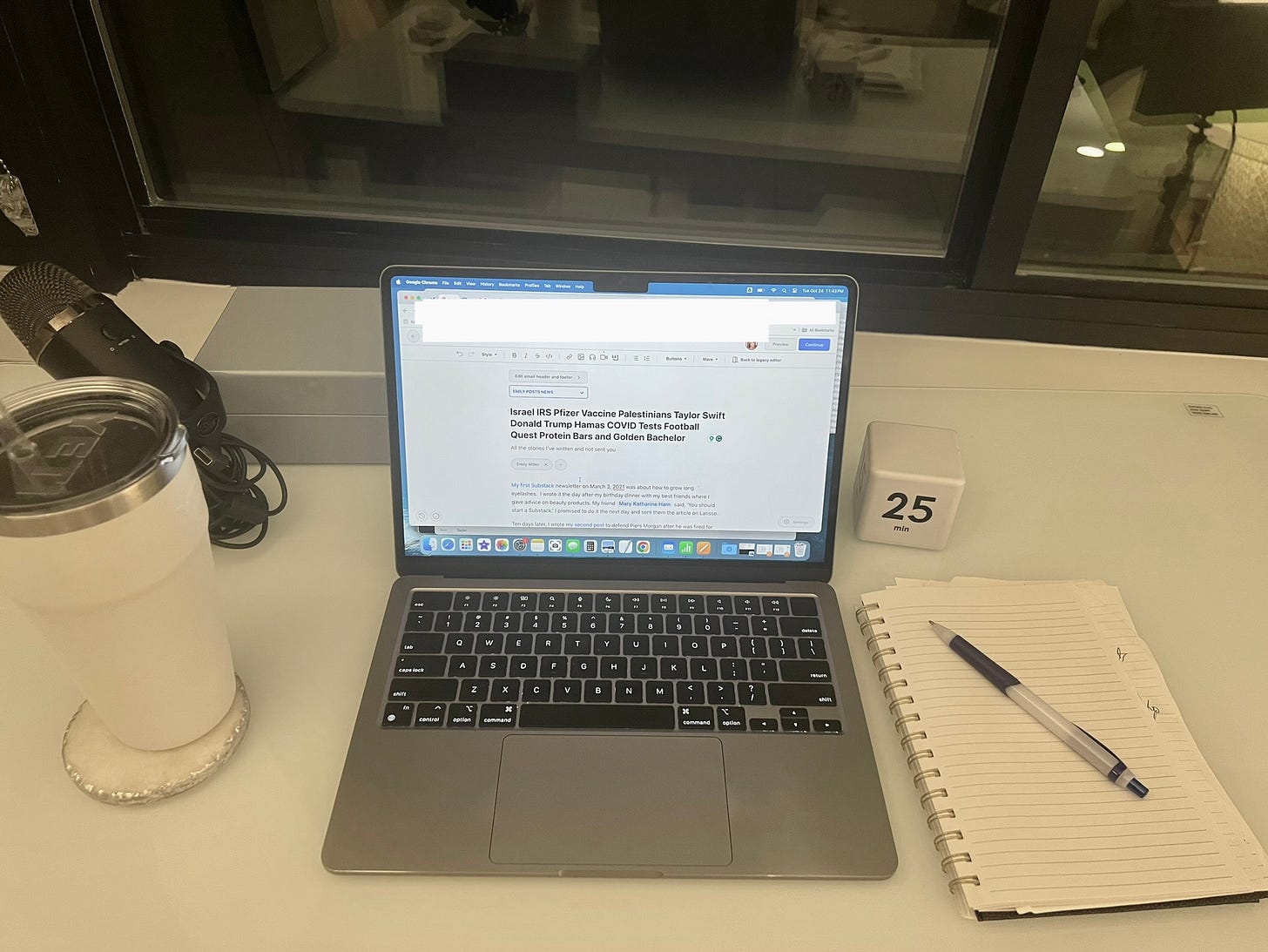 How it started
My first Substack newsletter was about how to grow long eyelashes. I wrote it the day after a birthday dinner with my best friends where I gave advice on beauty products.
My friend
said, 'You should start a Substack.' I promised to do it the next day and sent them the article on March 3, 2021.
Ten days later, I wrote my second post to defend Piers Morgan after he was fired for correctly saying Meghan Markle was a serial liar. I empathized with Morgan because I had been scapegoated and canceled at the FDA just a few months earlier.
How it's going
Since then, I have written 386 (!) newsletters about things I find interesting and want to dig into— vaccine mandates, Afghanistan, gun control, ivermectin, Will Smith, Alec Baldwin, Amazon gadgets, Tom Brady, policing, firefighters, crime, Johnny Depp, Gen. Colin Powell and more.
Now toward the end of my third year writing these stories to you, I've hit a point of publishing paralysis. I can't finish anything that is good enough to send you.
These are my drafts and the cause of publishing paralysis.
Israel and Palestinian sympathizers
After seeing a Palestinian demonstration last weekend, I spent two days writing a long story about the importance of standing with Israel after the Hamas terrorist attack.
Paralysis: I sent the draft last night to an old friend who is following the developments closely. She told me the piece was "repetitive of what's already out there." She also said I didn't know where I wanted it to go. She was absolutely right, so you didn't get it. 
"Golden Bachelor"
I've spent a lot of time researching the new reality show "Golden Bachelor" which is about finding love in your 60s and 70s.
The lead Gerry (pronounced like Gary) is a 72-year-old widower who is "dating" mostly widows and divorcees in the hopes of finding love and companionship again.
The show's female cast is genuine, kind to each other and emotionally open about loneliness and grief. Unlike the young casts in regular seasons, they are not on the show for fame.
Gerry cries a lot (more than young women in other seasons, actually), but his kindness to the women and their support for each other makes me literally smile at my TV.
I've watched every single episode of the "Bachelor" franchise and this unexpected gem is the best of all of them.
For those of you who haven't watched an episode of this reality dating series over the past 21 years, this one season is worth your time. The one-hour episodes are a great escape from all the bad news.
Paralysis: I never wrote this because I know only a handful of my subscribers watch reality TV and the rest would leave comments telling me not to waste my time on this "trash."
Guns and white women
I have a half-written story about a protest for gun control in Colorado where only white women were allowed. I thought it was satire when I first read about this.
The concept was that white women were using their "privilege" to stand in for women of color because they wouldn't get assaulted. No one explains who would assault them at a peaceful sit-in protest.
Paralysis: I never sent it because I worried that I would be canceled as a racist.
Quest protein bars
I wrote two years ago that Quest protein bars "improved" their recipe and ruined them. Before this New Coke disaster, I ate thousands of bars (not an exaggeration, and I can prove it.)
While I've found two flavors that are still good, I desperately miss the blueberry muffin bars. 
Paralysis: My goal was to get the attention of Quest to return the bars to their old recipe. I didn't publish the story because I assumed the company would never see it and none of you would care.
PS- Since then I switched to Kirkland which had a great dupe for the Quest chocolate chip cookie bars, but then Costco changed that recipe!
Vaccine and Football
There's an article in my drafts about the theory that Taylor Swift is fake dating Travis Kelce (a football player I'd never before heard of before this) to promote the new COVID vaccine booster.  
I was interested in their relationship because Aaron Rogers— who was awesome about refusing to get vaccinated despite vicious media attacks— called Kelce "Mr. Pfizer."
Paralysis: I didn't send it because I was concerned I would be accused of spreading conspiracy theories.
IRS and Conservatives
I half wrote an article but didn't finish because I bored myself. The story is about how the IRS caught the man who leaked the tax returns of billionaires and Donald Trump.
Those of you who have been subscribing since the beginning, THANK YOU and you may remember I wrote "Where is Lois Lerner Today" in June 2021 about the disinterest in catching who at the IRS stole the tax returns.
To my surprise, he was recently arrested and confessed. But, the House Ways and Means Committee Chairman pointed out that the "Department of Justice elected to charge only one count despite the more than a thousand disclosures he admitted to in open court." Just one count!
Paralysis: This was a story worth three paragraphs, not a long post. I thought you would be disappointed to get a short email.
TK
Finally, I have a story completed that I can't publish it because I haven't been able to report one final confirmation. If the story doesn't pan out, then that work is useless. This happens sometimes. If I can get a second source for it, you'll have another exclusive report from me.
Paralysis: Factors outside my control.
Publishing Paralysis
The hardest part of publishing Substack is coming up with fresh ideas that also bring something new to light. I spend most of my time talking to sources, reading and searching for something to write about that is original.
Also, I try to please all of you by…
Keep reading with a 7-day free trial
Subscribe to Emily Posts News to keep reading this post and get 7 days of free access to the full post archives.