'The Golden Bachelor' Hopes for a Happy Second Marriage
Reality show ratings hit is devoted to senior citizens falling in love after the grief from death or divorce
I'm part of what's called Bachelor Nation. We are the super fans who have watched every episode of the reality dating show franchise for the past 21 years.
When we heard ABC was making a spinoff with senior citizens, we thought it was a joke, then just a bad idea. But we love the surprisingly entertaining "The Golden Bachelor." This show about people in their 60s and 70s falling in love and planning second marriages is a ratings hit.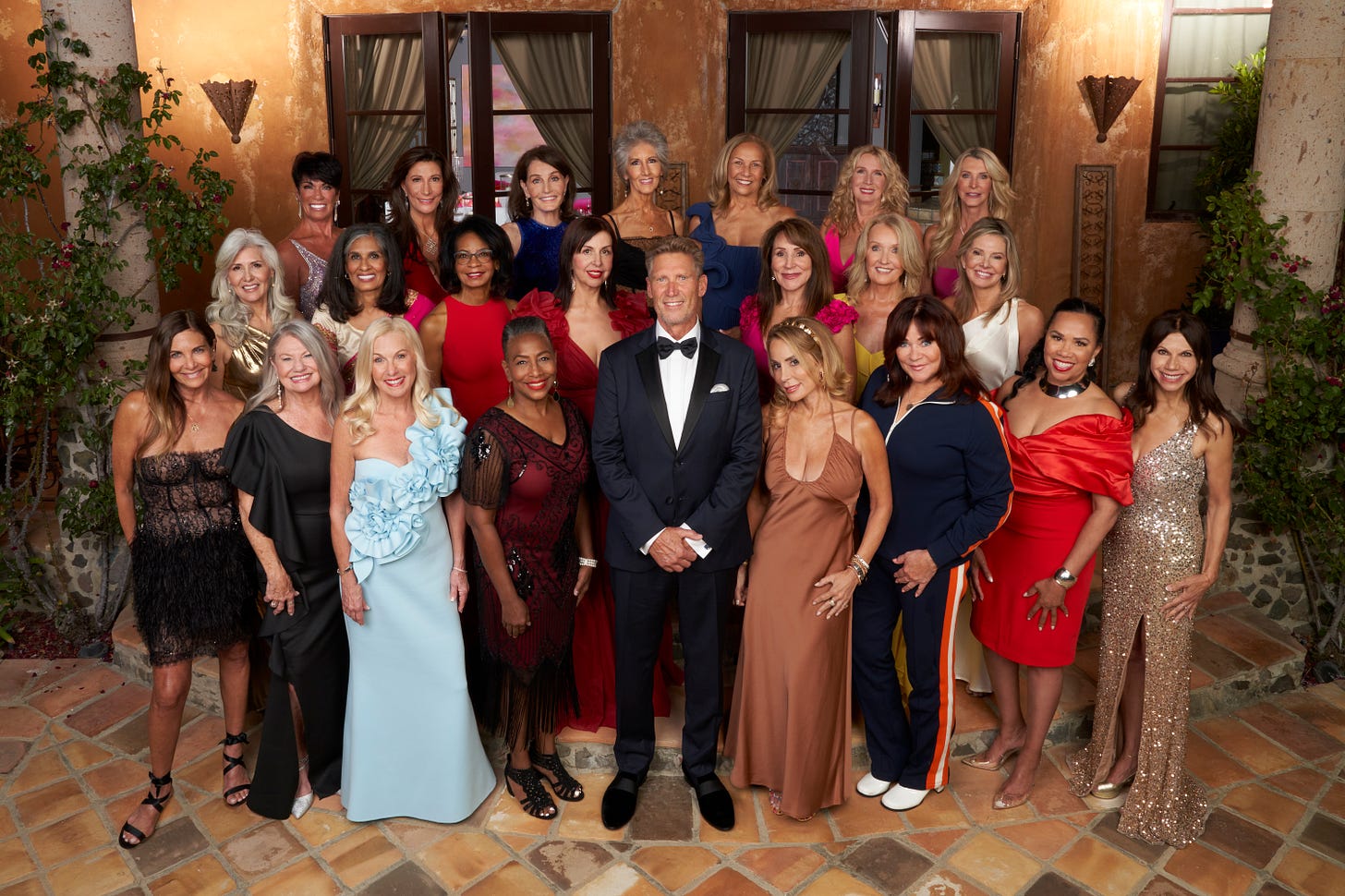 For those of you who missed my Oct. 25 newsletter about publishing paralysis, I explained why I had not written about this show. Your feedback in the comments convinced me to go ahead with four episodes left in the season, starting tonight.
Second Marriage
Golden Bachelor Gerry Turner is a handsome, 72-year-old, retired, midwestern, grieving widower who wants to get remarried.
"I yearn for a second chance in life to fall in love again," Gerry said between tears on the premiere. "The person who can lay down beside you at night, not have to say anything, and you feel it. That's love— that's what I want."
He was set up with two dozen women from 60 to 75 years old with the goal of proposing to the one with the final rose at the end of the season. Gerry has cut the field down to three women for the episode in their hometowns. (His name is pronounced GEAR-ee, not Jerry. He told Jimmy Kimmel it's an Irish name.)
its cast's wholesome hope that they can find romantic love after death or divorce and the bloom of youth
Gerry cries a lot over his first wife, Toni, who died six years ago. He starts crying within the first three minutes of the first episode when he's asked about her death.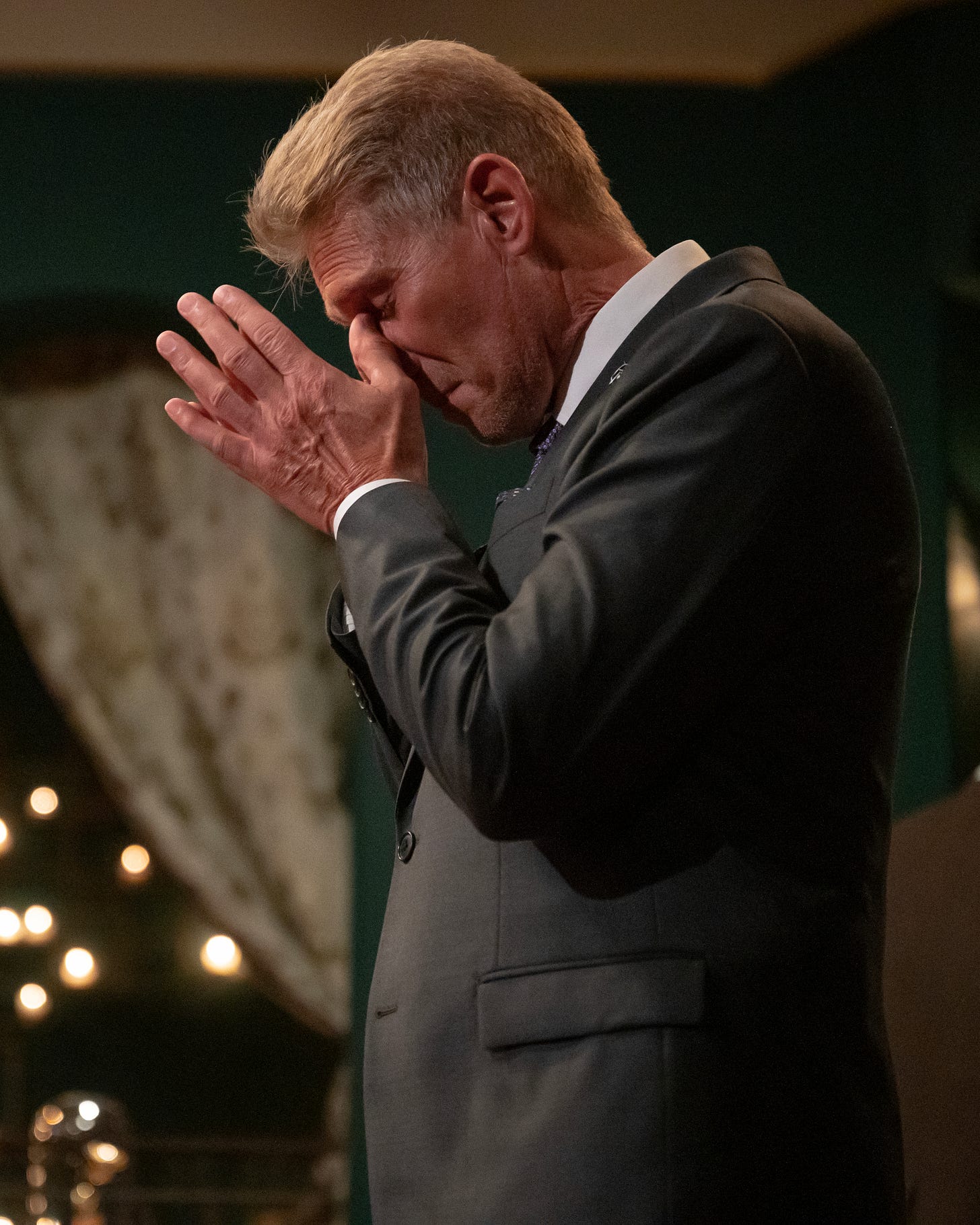 The Golden Bachelor (golden years, get it?) is shown standing on the balcony of his Indiana lake house which he bought for retirement right before Toni died. 
"Every time I look out on that lake, I think, this is her dream, this is what she deserves. Why am I standing here alone?" he said as he kissed her framed photo. "No one will ever replace Toni."
Hot and Flashy
Gerry won't replace Toni, but he's quickly attracted to the women on the show who are all skinny, with mostly taut skin and decked in sexy clothes. Most of the women, in my opinion, likely had a little nip and tuck and genetically look significantly younger than their ages.
they sincerely want to fall in love and get remarried, not get famous and gain Instagram followers.
Leslie, a 64-year-old fitness instructor from Minneapolis, showed up in the beginning dressed as a stereotypical old lady in a long pink nightgown with short, curly, gray hair and using a walker.
Gerry asked her if she needed help getting out of the limo. Leslie then threw away the walker, pulled off the nightgown and showed a sexy, lace, strapless, mini dress and the body of a 25-year-old.
"The women are amazing. Everybody looks really, really good," said Leslie. "We are all breaking the stereotypical view of what a senior looks like -- or acts like."
She said she once dated Prince, who wrote the song "Sexy Dancer" about her. Leslie is actually looking for a third marriage because she is twice divorced.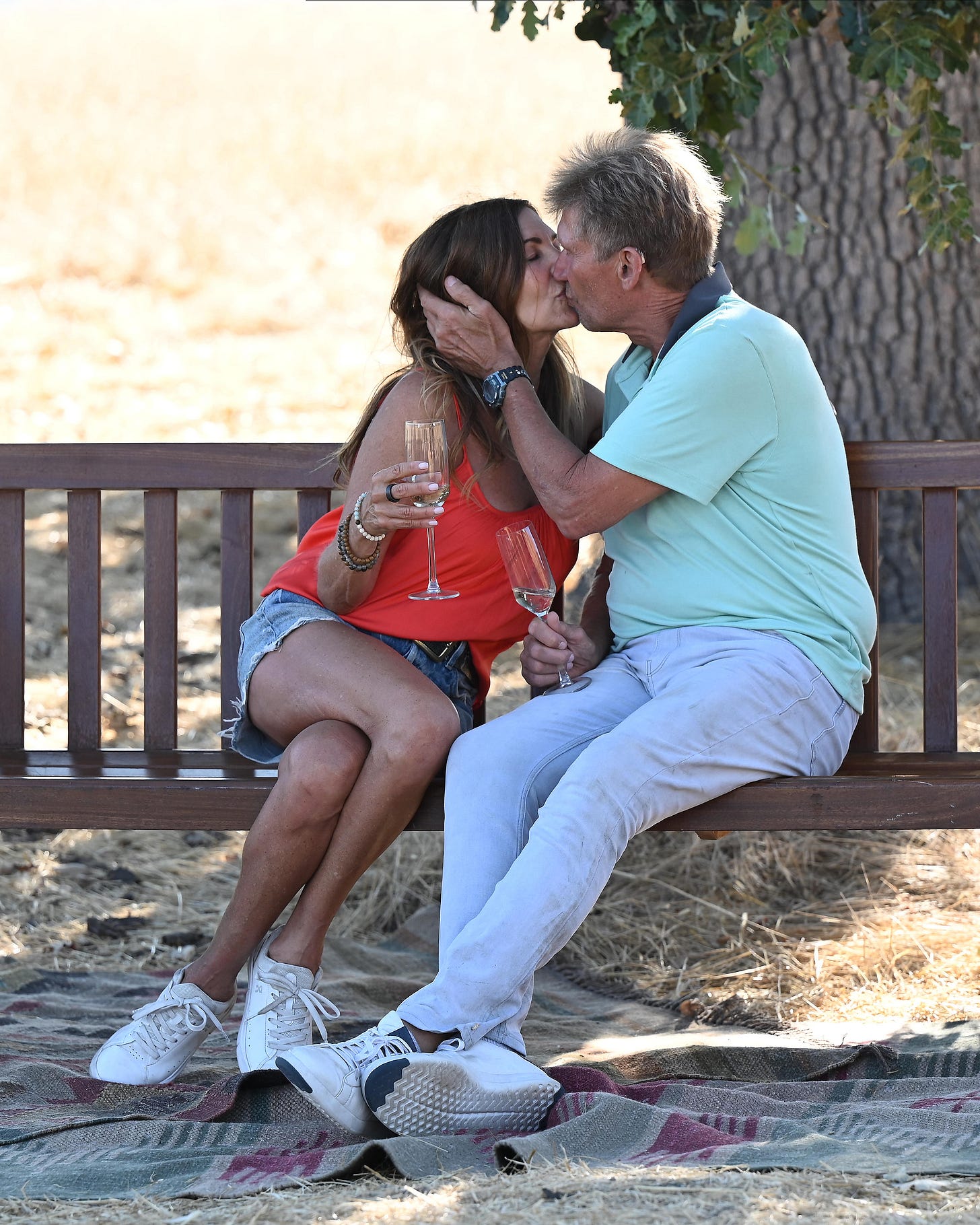 Theresa Nist, a financial services professional from New Jersey, had her 70th birthday on the show. She arrived at the "Bachelor Mansion" in a black wrap dress and implied she was only wearing her birthday suit under it. She pulled the ties open, facing him.
Gerry stared straight down her body like a 17-year-old boy. We later saw she was covered in a nude-colored undergarment, but she clearly got his attention.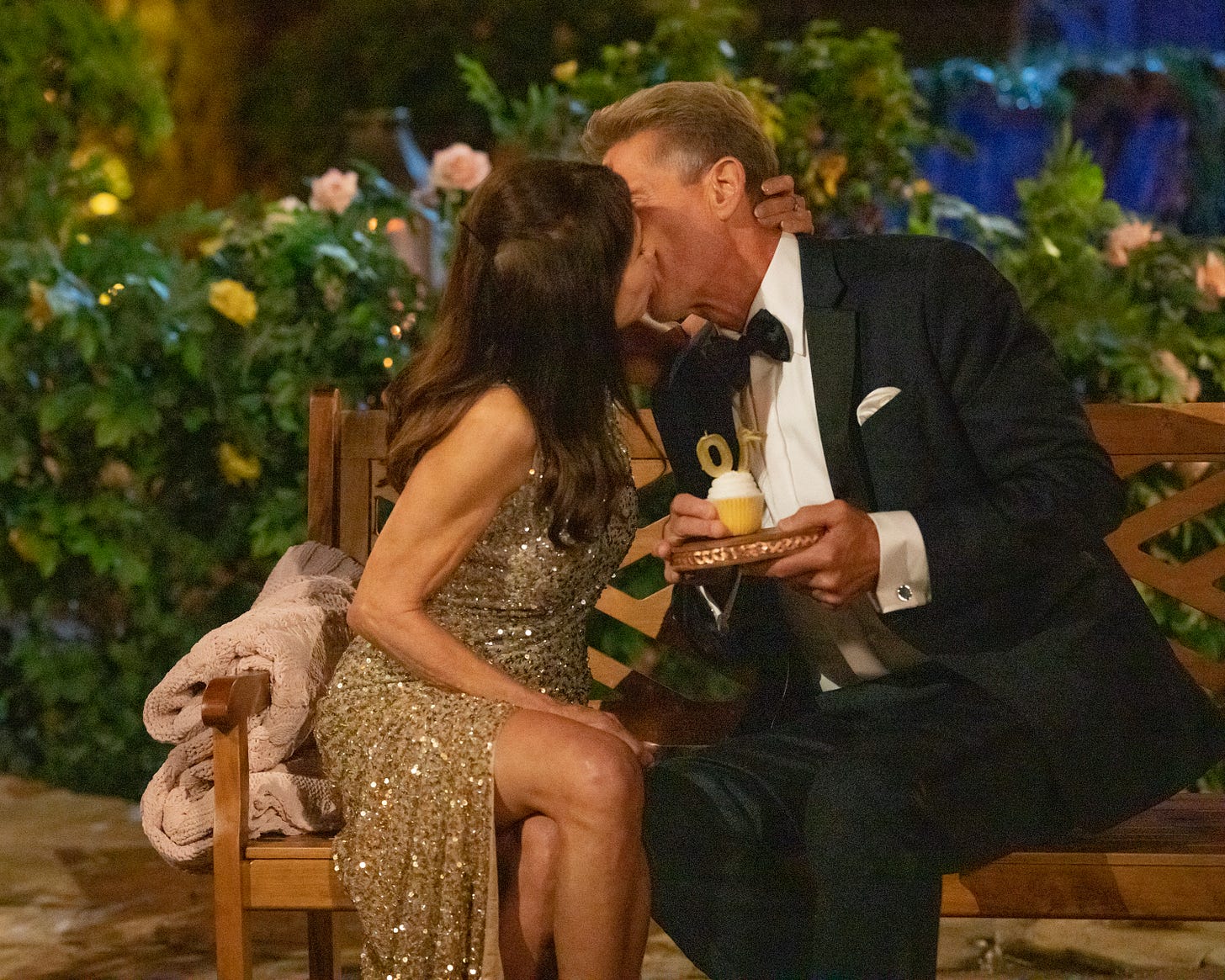 Later that night, Theresa changed into a gold, sequin gown with a plunging neckline.  Gerry gave her a cupcake with a "70" candle. He flirtingly asked her to help get off the icing after he took a bite. They started kissing and then made out like 20-somethings. 
"That was the best birthday gift ever," said Teresa, who has been a widow for nine years. "It's been such a long time since I had butterflies like this!"
Golden Rose Ratings
The old people have gotten huge ratings. The first episode had 11 million viewers, the highest for the franchise in two years. Ratings were even up for the target demographic of 18 to 49-year-olds, which are viewers young enough to be the stars' children and grandchildren.
He and his second wife will have the ghosts of the first spouses in their marriage. 
Since then, it's still been the most popular show on Thursday nights with four million viewers. This is also impressive because we have spent two decades watching the show on Monday nights with group chats and watch parties. 
Grief and Hope
One reason for the popularity of the show is due to its cast's wholesome hope that they can find romantic love after death or divorce and the bloom of youth. 
Ellen Goltzer, 71, told Gerry that she came on the show because her best friend Roberta Zaktzer, who had cancer, encouraged her. The series is dedicated to Roberta, who died in September.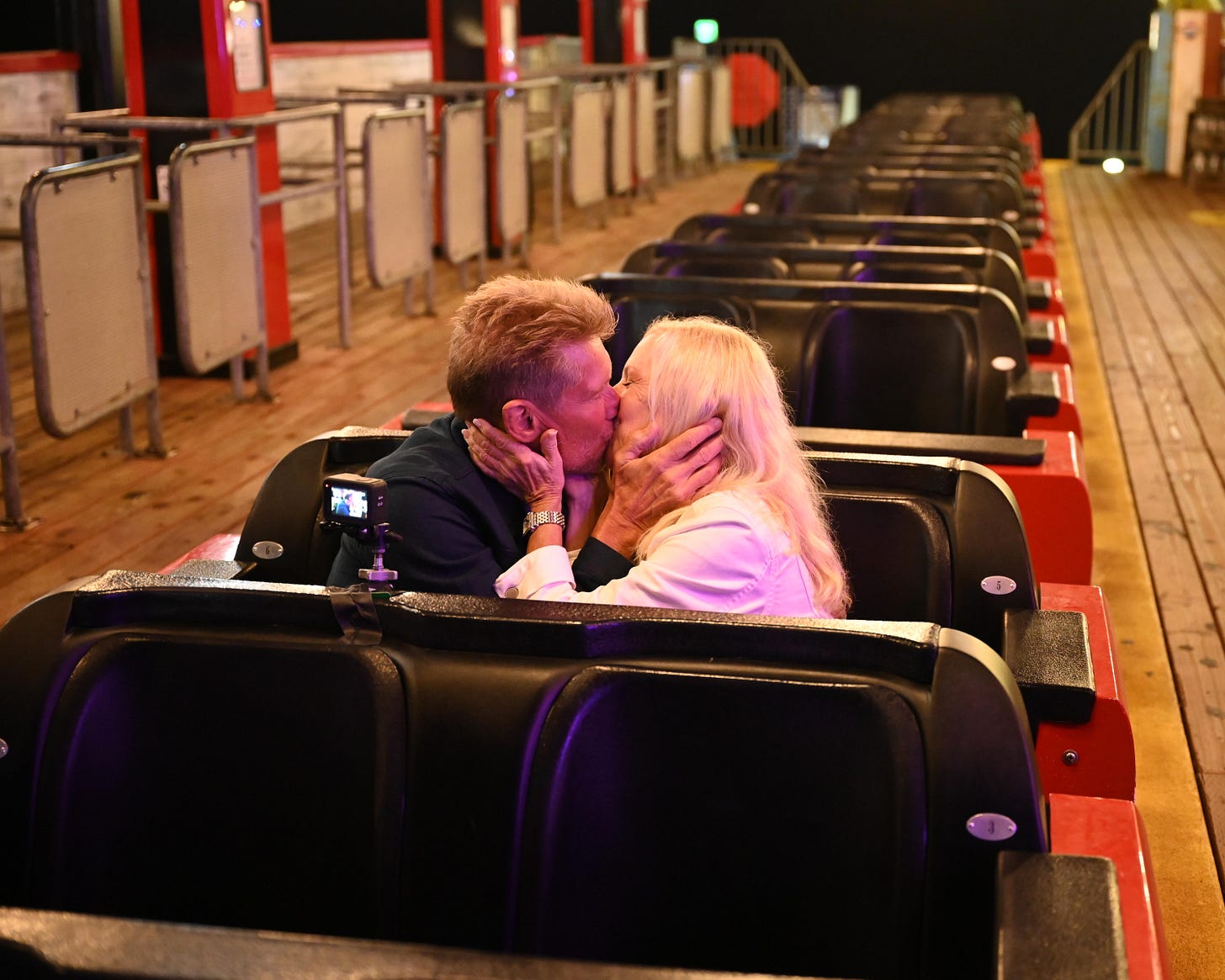 "I think we are capable at this age to do it, and I think everybody is entitled to love and be loved," Ellen said to Gerry.
This is the best of reality TV.
Nancy Hulkower, a beautiful blonde 60-year-old, fell sobbing after putting on a wedding dress for a costume skit in the second episode. 
Gerry comforted Nancy as she explained, "I haven't had a wedding dress on for 36 years, and it was when I married the love of my life." Her husband Mark passed away 12 years earlier. 
(Nancy decided to leave the show after injuring herself playing pickleball. She is from Alexandria, VA, which is a D.C. suburb. I'd love to interview her if anyone knows her?)
Right reasons
The show is also loved by fans because the cast is on for— as they say on the show— the right reasons. That means they sincerely want to fall in love and get remarried, not get famous and gain Instagram followers. The women become close friends and support one another, as opposed to being competitors.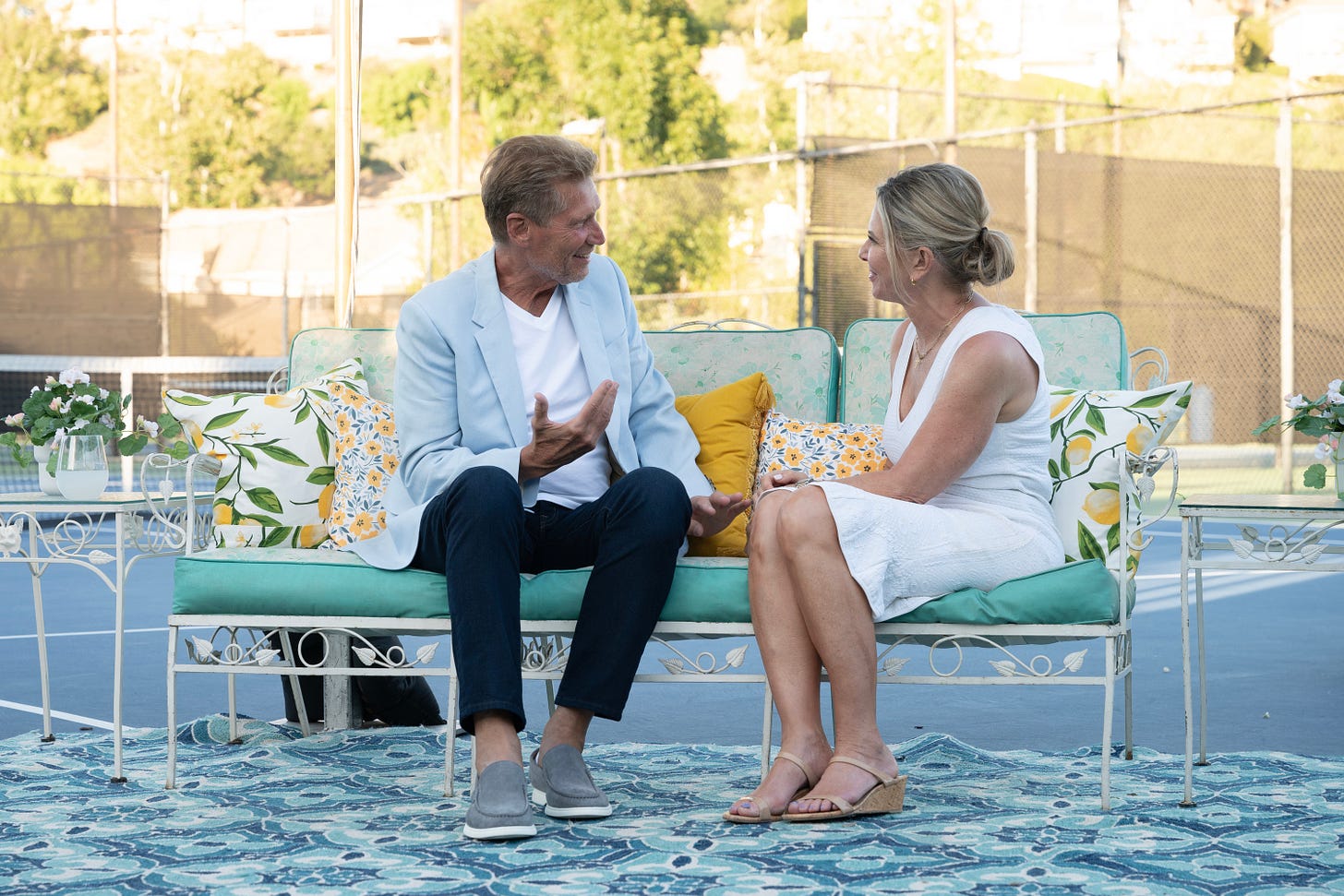 Although Gerry cries to the other women about Toni a lot, he's met with their own open grief for their deceased husbands. If Gerry proposes in the end, he and his second wife will have the ghosts of the first spouses in their marriage. 
Aging Reality
ABC deserves a lot of credit for showing old age as a part of life, rather than a terrible fate. Aging is hard, and they don't try to hide it from the audience.
The first episode began in complete silence as Gerry put on his tuxedo shirt and tie. At 56 seconds, he put hearing aids in his ears and the audio began. Cat Stevens's song plays: 
I listen to the wind, to the wind of my soul

Where I'll end up well I think, only God really knows
It sounds hokey, but it was powerful. This is the best of reality TV.
At the end of the second episode, a contestant complained to producers that the "rose ceremony"— a long scene with the women standing was not appropriate. She looked directly into the camera and said: 
You have people in here 60, 70 and above.  Do the rose ceremony in chairs. They have chair yoga, chair exercise and chair aerobics. Chair rose ceremony.
SPOILER ALERT! Against my will, a friend told me who gets cut tonight. I am putting it below the payall so it doesn't spoil anyone by accident. Stop reading here if you want to be surprised.
Keep reading with a 7-day free trial
Subscribe to Emily Posts News to keep reading this post and get 7 days of free access to the full post archives.